WHO ARE WE
Technique Finishing Ltd is a quality assured (ISO) expert paint finishing company with over 30yrs experience in the paint finishing industry. Based in Chichester  West Sussex since 2005 serving Sussex, Hampshire, London and The surrounding counties.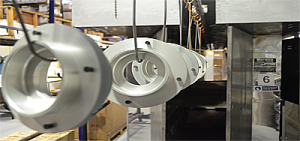 Our plant lists.
Hot zinc spray equipment
Hot phosphate treatment tank
Alocrom 1200 DEF-STAN 03-18
40ft shot blast facility
1m sand blast facility
Clean room
Overhead handling system (1/2 Tonne)
Track stoving system
3 metre box oven
3 metre box oven
8 metre box oven
3 metre spray booth (x 2)
5 metre spray booth
8 metre spray booth
As part of Technique Finishing's service to you we provide you with the benefit of our technical know how and trouble shooting ability, with onsite consultation. We can assist you in the understanding of the requirements to provide the perfect finish to your product specification.
WHAT WE DO
Technique Finishing create value by finish by offering a quality service at realistic prices Powder Coatings, Wet Paint Finishes, Metallization, for industries such as;
General metals
Automotive
Architectural
Iron work
Construction
Furniture
Aerospace
Military/defense
Computer
Power
Medical
Petroleum
Shipbuilding
Electronics
Gas & oil
Entertainment
Nautical
Transportation
Our service includes:
Our expertise available to you for consultations, quotations.
Knowledge & experience on all forms of coatings
Processing control to ISO & BS standards
On target deadlines
Specialized measurements of coatings
Full paper trails inclusive of certificates of conformity
WHY USE US
Technique Finishing have the experience in finishes such as, suede. Sparkle, hammer, spatter, textures, Leatherettes, lacquer, on most substrates such as; mdf's, plastics, woods, ferrous, & non ferrous metals. With over 5000 colour choices in powder's wet epoxy primers & top coats to all specification's including def-stan's Mil finishes.
Our professional services bring you assurnace with:
Over 30yrs experience
Competitive pricing
One stop pre-treatment & paint shop
On time dead lines
Here when you need us most
Collection & delivery service
On hand experience & advice
Fast accurate quotations
Quality assured (ISO & BS Standards)
Friendly business to business approach
Technique finishing prides itself on commitment to our customers, and as part of this commitment we want to assure you that, we are always available to discuss and meet your requirements and offer our services for the outsourcing of your product finishing process enabling you to reduce your operational costs and capital expenditure.
Working directly with you on a one to one bases we provide insight into how to prepare and finish your products to a high quality with 100% satisfaction to enable you to meet your targets on time.